What is a horizon? Alexandra Roozen's Drawing Series "Tweening"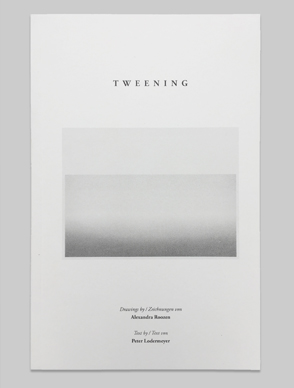 by Peter Lodermeyer
Peter Lodermeyer (*1962 in Ottweiler, Germany) is an art historian, art critic, author, and curator based in Bonn, Germany. 1983-1991 study of art history, philosophy and German literature. Received M.A. (1992) and Ph.D. (1997) in art history from the University of Bonn. Since 1999, publishing a large number of books, scholarly articles, artist interviews, catalogues, book reviews and essays, on a variety of aspects of contemporary art. He became a member of the International Association of Art Critics (AICA) in 2008. www.lodermeyer.com
Text in German
---
What is a horizon? Alexandra Roozen's Drawing Series "Tweening"
I.
With her new, large-format drawings that bear the initially incomprehensible title of "Tweening", Alexandra Roozen takes an apparently conscious risk of being misunderstood. But perhaps these works are about an eye test or rather, an eye-trap, into which unsuspecting visitors who rely too much on the superficial, almost inevitably, fall. All too quickly, almost at first glance, we might think we understand what these broad, panorama-like formats are about: In all of these drawings we see a bright horizon line, which divides the two zones from each other to form two halves. Almost as a reflex, we conjure up associations: the sea and the sky – so these must be seascapes in the changing light, abstracted, reduced to shades of gray, full of atmosphere, yet nevertheless strictly rendered in terms of form, and varied with different progressions of light and dark (as indicators of the different times of the day and seasons). Basic biographical information is seamlessly incorporated into this interpretation: The artist lives in Rotterdam, perhaps half an hour from the beach; the sea would thus be a natural choice as a motif. And as a Dutchwoman she is doubtlessly familiar with the great tradition of Netherlandish marine painting: the dead straight horizon of the sea, the gleaming surface of the water, the high sky with the countless nuances of brightness in the clouds. A person who, by contrast, prefers to draw comparisons from contemporary art, is perhaps reminded of the "Seascapes" done by the Japanese-American photographer Hiroshi Sugimoto, these majestically broad formats in black and white, whose horizon lines divide the height of the picture precisely in the middle, just like in Alexandra Roozen's drawings. And is it not the case that drawings by Alexandra Roozen also look like photographs, at least when viewed from a distance? Viewers in a hurry may confidently go home again with such "information". For everyone else, above all for those, who know how to take their time, this is the point where the work of the gaze – and here, work is not to be separated from pleasure – actually begins.
II.
As a matter of fact, time is a decisive factor for works by Alexandra Roozen. Due to her specific processual understanding of drawing, she reckons with long periods of production: On a single "Tweening" drawing, she works around two and a half weeks, and some of the other large-format drawings take her four to five weeks each. This fact alone is an artistic statement. Even if the numbers considerably differ that we sometimes read: We may assume that in today's media societies, each person sees at least 1000 images every day. We might just as well say that every day we do not see 1000 images, since with such a multitude, this is not about gazing, but at most the swift filtering out of information, which, depending on the relevance, is either recognized or given no further thought. It is well-known that in connection with the increasing aestheticizing of our world, there is a flip side of anaesthetics, the ignoring and overlooking, the quick sorting out and forgetting, without which we would not be able to manage the constant exposure to stimuli.1 Thus, each day we undergo training in the lightning-fast probing and assessing of visual stimuli. Alexandra Roozen very decisively counters this acquired sensory mode of perception with her drawings. She does not aim for reactively fishing out information, but for aesthetic experience. To accomplish this, she relies on stimulus deprivation, on aesthetic asceticism: The forbearance of objectivity, forbearance of color, forbearance of narration – and at the same time a multitude, an even lavish overabundance of microstructures and the subtlest of nuances. And these call for a thorough, time-consuming viewing. "Tweening" is a series of exceptionally "slow" pictures, compared with the technologically-generated images that have long since come to represent the "normal case" of contemporary visual communication. To illustrate the point: In the time it takes for Alexandra Roozen to draw on a single page anywhere between 2000 and 10,000 lines, depending on the number of layers, over 17 million photos will have been uploaded on the Internet forum Flickr alone (even if we were to look at them at a rate of one per second without interruption, it would take over half a year to get through them).
III.
Viewed from a distance, the picture fields of the "Tweening" drawings appear as delicately smooth progressions of shades of brightness. The middle horizon line always remains recognizable as a narrow, light, blurry zone. Coming closer, each of the picture fields undergoes a slow, revealing metamorphosis. The diffuse gray fogs become increasingly grainy, breaking down into shades of light and dark ever more clearly, and close up, turn out to be countless traces of graphite on the slightly yellow paper. The numerous fine shades of gray, it thus becomes clear, result from the optical mixture between the gray of the graphite and the white portions of the interim spaces. Especially if we look across the picture surface at a slight slant, we can observe that the purportedly diffuse gray is actually structured, consisting of numerous lines. Unlike in the artist's earlier works, which were mostly done on rectangular grid systems (albeit, often turned at a diagonal), the lines in "Tweening" have not been drawn as parallels, but fanned out – from both sides. If we were to pursue the courses of the lines precisely, we would be able to determine that these converge into two vanishing points outside the picture field, as if we were constructing the perspective view of a cube placed in the middle, stood precisely at a diagonal (i.e. in relationship to the picture level, turned at an angle of 45 degrees). Alexandra Roozen uses the traditional, modern-day design principle of the central perspective, though she has no intention of designing. The vanishing lines lying close to one another radiate from two points external to the picture without constituting a visible object. The picture construction is nothing other than the mere interference of two densely wrought systems of vanishing lines without an object fixed in the perspective and without the function of allocating a defined vantage point to the viewing subject. The artist solves this problem technically by using a long ruler, moveable, but attached to a pivot point at one end. When drawing, the sheets of paper are always positioned so that in each case this point is exactly 130 cm away from the lateral edges of the picture field.
IV.
Up until now, I have always referred to the "lines" Alexandra Roozen draws. This is a rough generalization that warrants correction. We need only approach the drawings closely enough to realize that they do not contain straight lines that have been drawn clear through. From up close, the purported straight lines become porous, revealing numerous interruptions and breaking up into a multitude of irregularly formed fragments. The cause for the unusual shape of the "lines" – which, for reasons of simplification, I will continue to refer to as such – is at the same time the greatest surprise for all who are unfamiliar with the artist's special working method: Alexandra Roozen draws them with the aid of a hand drill that has been outfitted with a graphite stick. She has been using this drawing technique over and over again, though not exclusively, for years, because it makes it possible for her to generate unpredictable, non-intended qualities of lines. If we look closely at such an individual line, which consists of multiple individual elements that are constantly interrupted by gaps, an association with graphic characters inevitably arises. Time and again, elements are repeated, which more or less remind us of letters or punctuation marks: IIII, eeee, oooo, commas and semicolons—and doubtlessly, it would also be possible to find similarities to letters from non-European systems of writing. (This proximity between drawing and writing is a theme in many of Alexandra Roozen's works. They demonstrate that the Greek word stem of our word graphic, "gráphein", means both "drawing" and "writing"). If we take the trouble to follow a single "line" from these pseudo-letter characters, we clearly perceive how they slowly change during their course, each time displaying slight variations and thus, successively changing their shape. The reasons for this are the slight changes in the way the drill is placed, the vibrations of the machine itself, but above all the inevitable increase of wearing down the graphite stick, which causes its point to constantly change. An o, for example, slowly becomes a u, an i turns into a g and finally an illegible grapheme, etc. From these gradual transitions, which result from the combination of the linear movement of the graphite stick and its rotating movement, the title "Tweening" may be explained. The term is an abbreviation for "inbetweening", a customary term for a technical process in cartoons or in computer animations. It designates the procedure of inserting individual frames between initial state A and end state B, which step-by-step assimilate A to become B so that in the film the movement of an object (movement tweening) or a change in form (form tweening) result. Roozen applies this technical term for animation to her likewise technically expanded practice of drawing. The title "Tweening", however, may be applied beyond this in an expanded sense to include the overall process of drawing. In order to make this clear, we must first deal with a few preliminary considerations.

Photo: Detail – Study of pencil lines, drawn with a drill
V.
To bear down upon a light and vulnerable material like paper with such a robust tool as a drill is an act which very consciously disassociates the artist from the traditional notion of drawing as a sensitive, intention-driven handcraft. Alexandra Roozen has repeatedly reflected upon and tested the relationship of the artist subject as author vis-a-vis the technical process of drawing as such. This went so far that, in the case of several earlier works, she made such intense use of the brute force of the rather coarse turning mechanism of the drill that it caused damages, scratches and fissured roughenings in the paper. Even more radical is her idea to emancipate the drawing process from the physical presence of the artist and to entrust this process to a drafting machine. These aspects of Alexandra Roozen's work, and the questions connected with this concerning the status of the artist subject, need not be discussed in further detail here, especially since Petran Kockelkoren singled this out in his informative text from 2012. A quote should suffice: "If the author is an artist, what kind of an artist is she? Is she present in her work as self-expression, or has she abandoned her creation as a deus absconditus? These enigmas are the crucial questions that dominate the current discussion of art. The artist carries out research at a meta-level on the conditions for the existence of her work."2 The research character of Alexandra Roozen's work also becomes very clear in "Tweening". Just how methodically and painstakingly she approaches questions she asks herself may be illustrated with a detail. It is generally known that customary digital TrueColor graphics systems can generate 256 different shades of gray, whereas the human eye – depending on the viewing conditions – is only able to distinguish 40 to 100 shades of gray. To gain an idea of how the distribution of brightness may work inside the picture zones of "Tweening" (and the earlier, structurally very similar, series "Between" from 2012/13), Alexandra Roozen created at the computer a series of permutations of various zones of gray shades, a sequence of hundreds of different distribution patterns, confusing to the senses and completely overtaxing the eye, which make one thing clear above all: Alexandra Roozen is an artist who does not content herself with vague intuitions, but gets to the bottom of things. Something the musicologist Carl Dahlhaus once stated in a very different context applies precisely to her work: "technical moments are always aesthetical moments at the same time. Just as, vice versa, aesthetic insights must be technically founded."3
VI.
What is a horizon? Part of Alexandra Roozen's basic attitude is not to depart from an answer to this question, but to seek a solution to it by drawing. The literal meaning of horizon is a "scope of view", i.e., ideally, it is a line that surrounds the viewer 360 degrees, limiting his scope of vision to a horizontal line. Thus, on a drawing, a horizon can always only be a fragment of this scope of view. Empirically, the horizon (above all when dealing with wide expanses such as the sea) hardly reveals itself as a clear line, but rather as an indistinct, blurry zone. The point of departure for the "Tweening" drawings is not the visible landscape or sea horizon, but the technical process with which the horizon "line" may be accentuated as a bright, indistinctly limited, narrow band within a subtly gradated twilight field. This field builds up "line for line" in steps while drawing. Whereas the title "Tweening" on the one hand cites a characteristic inherent to lines, namely the momentary change of state of the (pseudo-)graphematic individual elements, on the other hand, it may also describe the process of drawing a line in total: as a step-by-step approach of a multitude of lines to a diffuse field of gray tones. After Alexandra Roozen has spanned out a loose fanning of lines, she draws ever more lines in between, filling the interim spaces more and more densely, starting from both sides. "I think the idea of interpolation is the main reason for the title."4 The interpolations are precisely those lines that are repeatedly inserted between the other lines, which intersect those lines drawn from the opposite side, making them appear more dense, and in viewing everything together, cause a richly nuanced twilight zone to emerge with a very finely gradated play between light and dark, bringing about a highly differentiated twilight zone. By leaving a narrow horizontal zone as a division (during the drawing process, this is protected by a thin piece of tape), she creates an element for reference or orientation in the center of the picture field: "a reference line of movements, from light to dark, from hard to soft, from far to near, from top to bottom, etc."5 And there remains to be added: from one picture to the next in as much as more than one "Tweening" drawing is on display at the same time.
VII.
In conclusion, there is one distinctive feature pertaining to these works, which has not yet been addressed, but must be taken into consideration. It has to do with the odd positioning of the picture fields on the paper. For each of the drawings, this field measures 75 x 155 cm. It has been placed at the bottom of the carrier paper measuring 120 x 160 cm, whereby to the left, the right and below, a margin of 2.5 cm has been left. At the upper picture margin, however, there is a gaping distance of 42.5 centimeters. This means the upper margin is so wide that we may scarcely refer to it as such; it is rather instead an autonomous, white, empty surface of paper. The odd positioning of the picture field may be viewed as an equally subtle and conceptually harmonious decision. A "classical" solution would have been to position the picture field exactly in the middle or a little higher so that a harmonious balance would come about between the positive and the negative, or more concretely: between the actual picture itself and the neutral margin. This notion Roozen thoroughly undermines with her eccentric positioning of the picture field. The darker, optically heavier field sinks downwards, the bright surface of the paper maintaining itself as a zone in its own right that does not simply let itself be neutralized or excluded from the viewing. This allows us to experience the entire sheet of paper as a material object. Drawing, for Alexandra, does not mean giving an illusion of an immaterial picture. It is the result of a concrete, material process determined by the materials (paper and graphite) and procedures (drawing with a ruler and a drill) used. The fact that this process ultimately produces a result that corresponds with our notion of landscape, of the sea and the sky, only goes to show how strongly our perception is structured by deeply-rooted schematizations of our imagination. The association of a seascape may not be refuted, even for the artist herself – and yet this schematization is neither the point of departure nor the goal of her artistic procedure. The way Alexandra Roozen's "Tweening" at once undermines this schematization, even as it makes us conscious of it, and reestablishes it, may be reckoned among the visually as well as conceptually captivating aspects of her artistic approach.
Annotation
Wolfgang Welsch, Ästhetik und Anästhetik, in: the same, Ästhetisches Denken, Stuttgart 1990, p. 9-40.
Petran Kockelkoren, DISTURB – The disruption of the understanding of meaning. Quoted in: https://alexandraroozen.com/disturb-the-disruption-of-the-understanding-of-meaning, state on 22 July 2013.
Carl Dahlhaus, Richard Wagners Musikdramen, Stuttgart 1996, p. 95 (translation: ev).
Alexandra Roozen, E-mail to P.L., 9 April 2013.
Alexandra Roozen, E-mail to P.L., 23 July 2013.
---
Was ist ein Horizont? Alexandra Roozens Zeichnungsserie "Tweening"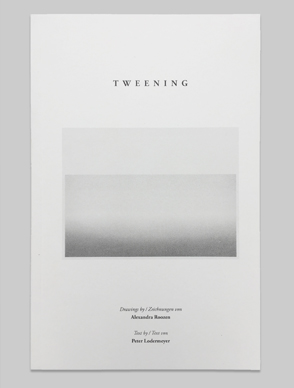 Von Peter Lodermeyer
Peter Lodermeyer (*1962 in Ottweiler, Deutschland) ist ein Kunsthistoriker, Kunstkritiker, Autor und Kurator mit Wohnsitz in Bonn, Deutschland. 1983-1991 Studium der Kunstgeschichte, Philosophie und Germanistik. 1992 Magister, 1997 Promotion in Kunstgeschichte an der Universität Bonn. Seit 1999 zahlreiche Buchpublikationen, wissenschaftliche Artikel, Künstlerinterviews, Kataloge, Buchrezensionen und Essays zu unterschiedlichen Aspekten zeitgenössischer Kunst. Seit 2008 Mitglied des Internationalen Kunstkritikerverbandes (AICA). www.lodermeyer.com
Was ist ein Horizont? Alexandra Roozens Zeichnungsserie "Tweening"
I.
Mit ihren neuen, großformatigen Zeichnungen, die den zunächst unverständlichen Titel "Tweening" tragen, scheint Alexandra Roozen ganz bewusst das Risiko einzugehen, missverstanden zu werden. Aber vielleicht handelt es sich bei diesen Arbeiten ja auch um einen Seh-Test oder, eher noch, eine Seh-Falle, in die arglose Betrachter, die dem Vordergründigen zu viel Vertrauen entgegenbringen, fast unvermeidlich tappen. Allzu schnell, fast schon auf den ersten Blick, könnte man glauben, man hätte verstanden, worum es in diesen panoramatischen Breitformaten geht: In allen diesen Zeichnungen ist eine helle Horizontlinie zu sehen, die zwei Zonen hälftig voneinander trennt. Fast reflexhaft assoziiert man: Meer und Himmel – also handelt es sich wohl um Seestücke bei wechselndem Licht, abstrahiert, auf Grauwerte reduziert, atmosphärisch stimmungsvoll, aber formal doch streng gefasst und mit unterschiedlichen Helldunkel-Verläufen (als Indikatoren unterschiedlicher Tages- und Jahreszeiten) durchvariiert. Biografische Basisinformation fügt sich nahtlos in diese Lesart ein: Die Künstlerin lebt in Rotterdam, vielleicht eine halbe Stunde vom Strand entfernt; das Meer ist für sie mithin ein im wörtlichen Sinne naheliegendes Motiv. Und als Niederländerin kennt sie zweifellos die große Tradition der niederländischen Marinemalerei: die schnurgeraden Meereshorizonte, das Flimmern der Wasserfläche, die hohen Himmel mit den unzähligen Helligkeitsnuancen der Wolken. Wer hingegen seine Vergleiche lieber aus der Gegenwartskunst bezieht, fühlt sich womöglich an die "Seascapes" des japanisch-amerikanischen Fotografen Hiroshi Sugimoto erinnert, diese majestätischen Breitformate in Schwarzweiß, deren Horizontlinien wie in Alexandra Roozens Zeichnungen die Bildhöhe genau mittig teilen. Und haben die Zeichnungen von Alexandra Roozen, zumindest aus größerem Abstand betrachtet, nicht ebenfalls eine beinahe fotografische Anmutung? Eilige Betrachter können mit diesen "Informationen" getrost nach Hause gehen. Für alle anderen, vor allem solche, die sich Zeit zu nehmen wissen, fängt an diesem Punkt die Arbeit des Sehens – und Arbeit ist hier nicht von Vergnügen zu unterscheiden – erst an.
II.
Tatsächlich ist Zeit ein entscheidender Faktor für die Arbeiten von Alexandra Roozen. Aufgrund ihres spezifischen prozessualen Verständnisses von Zeichnung rechnet sie mit langen Produktionszeiten: An einer einzigen "Tweening"-Zeichnung arbeitet sie ungefähr zweieinhalb Wochen, an manchen anderen großformatigen Zeichnungen vier bis fünf Wochen. Allein schon diese Tatsache ist ein künstlerisches Statement. Auch wenn die Zahlenangaben, die man gelegentlich liest, erheblich schwanken: Man kann davon ausgehen, dass in den heutigen Mediengesellschaften jeder Mensch Tag für Tag mindestens 1000 Bilder sieht. Man könnte ebenso gut sagen, dass wir täglich 1000 Bilder nicht sehen, denn es kann bei dieser Fülle ja nicht um Betrachtung gehen, sondern höchstens um ein schnelles Ausfiltern von Informationen, die, je nach Relevanz, zur Kenntnis genommen oder aber nicht weiter beachtet werden. Zur fortschreitenden Ästhetisierung unserer Lebenswelt gehört bekanntlich als deren Rückseite die Anästhetik, das Ignorieren und Übersehen, das schnelle Aussortieren und Vergessen, ohne das wir die mediale Reizüberflutung gar nicht bewältigen könnten.1 So absolvieren wir Tag für Tag ein Training im blitzschnellen Sondieren und Auswerten visueller Reize. Diesem antrainierten sensorischen Wahrnehmungsmodus widersetzt sich Alexandra Roozen mit ihren Zeichnungen ganz entschieden. Sie zielt nicht auf das reaktive Abfischen von Information, sondern auf ästhetische Erfahrung. Dabei setzt sie auf Reizentzug, auf ästhetische Askese: Verzicht auf Gegenständlichkeit, Verzicht auf Farbe, Verzicht auf Narrativität – bei gleichzeitiger Vielzahl, ja verschwenderischer Überfülle von Mikrostrukturen und subtilsten Nuancen. Und diese verlangen nach eingehender, zeitintensiver Betrachtung. "Tweening" ist, im Vergleich zu den technologisch erzeugten Bildern, welche längst den "Normalfall" gegenwärtiger visueller Kommunikation darstellen, eine Serie von ausgesprochen "langsamen" Bildern. Nur zur Illustration: In der Zeit, in der Alexandra Roozen auf einem einzigen Blatt, je nach Anzahl an Schichten, zwischen 2000 und 10.000 Linien zieht, werden allein auf das Internetforum Flickr über 17 Millionen Fotos aufgeladen (selbst wenn man sich diese pausenlos im Sekundentakt anschauen würde, wäre man über ein halbes Jahr lang mit der Durchsicht beschäftigt).
III.
Aus der Distanz betrachtet, erscheinen die Bildfelder der "Tweening"-Zeichnungen als zarte stufenlose Verläufe von Helligkeitswerten. Die mittige Horizontlinie bleibt stets als schmale helle, unscharfe Zone erkennbar. Beim Nähertreten macht jedes der Bildfelder eine langsame, aufschlussreiche Verwandlung durch. Die diffusen Graunebel werden zunehmend grobkörnig, zerfallen immer deutlicher in Hell- und Dunkelwerte und erweisen sich im Nahblick als unzählige Graphitspuren auf dem leicht gelblichen Papier. Die zahlreichen feinen Graustufen, so wird schließlich deutlich, ergeben sich aus der optischen Mischung von Graphitgrau und den Weißanteilen der Zwischenräume. Insbesondere wenn man ein wenig schräg über die Bildfläche schaut, kann man die Beobachtung machen, dass das vermeintlich diffuse Grau tatsächlich strukturiert ist und aus zahllosen Linien besteht. Anders als bei den früheren Arbeiten der Künstlerin, die meist auf rechtwinkligen (oft jedoch in die Diagonale gedrehten) Rastersystemen beruhen, sind die Linien in "Tweening" nicht parallel zueinander gezogen, sondern aufgefächert – und zwar von beiden Seiten her. Würde man die Linienverläufe genau verfolgen, könnte man feststellen, dass sie in zwei außerhalb des Bildfeldes liegenden Fluchtpunkten konvergieren, so als würde man die Perspektivansicht eines mittig platzierten, genau übereck gestellten (d. h. gegenüber der Bildebene um 45 Grad gedrehten) Quaders konstruieren. Alexandra Roozen benutzt das traditionelle neuzeitliche Konstruktionsprinzip der Zentralperspektive, jedoch ohne Konstruktionsabsicht. Die dicht an dicht liegenden Fluchtlinien strahlen von zwei bildexternen Punkten aus, ohne einen sichtbaren Gegenstand zu konstituieren. Die Bildkonstruktion ist nichts anderes die bloße Interferenz zweier dicht gefügter Fluchtliniensysteme ohne perspektivisch fixiertes Objekt und ohne die Funktion, dem betrachtenden Subjekt einen definierten Standpunkt zuzuweisen. Die technische Lösung besteht darin, dass die Künstlerin ein langes Lineal benutzt, das an einem Ende beweglich an einem Drehpunkt befestigt ist. Die Papierbögen werden beim Zeichnen stets so positioniert, dass dieser Punkt jeweils genau 130 cm von den seitlichen Rändern des Bildfeldes entfernt ist.
IV.
Ich habe bisher stets von den "Linien" gesprochen, die Alexandra Roozen zieht. Dies ist als grobe Vereinfachung zu korrigieren. Wenn man nur nahe genug an die Zeichnungen herantritt, stellt man nämlich fest, dass sie keine durchgezogenen geraden Linien enthalten. Aus der Nahsicht werden die vermeintlichen Geraden porös, weisen zahlreiche Unterbrechungen auf und zerfallen in eine Vielzahl unregelmäßig geformter Fragmente. Die Ursache für die ungewöhnlichen Gestalt der "Linien" – nur aus Gründen der Einfachheit seien sie weiterhin so genannt – ist zugleich die größte Überraschung für alle, die nicht mit der besonderen Arbeitsweise der Künstlerin vertraut sind: Alexandra Roozen zieht sie mithilfe einer Handbohrmaschine, die mit einem breiten Graphitstift bestückt ist. Diese Zeichentechnik verwendet sie seit Jahren immer wieder, wenn auch keineswegs ausschließlich, weil sie es ihr ermöglicht, unvorhersehbare, nichtintentionale Linienqualitäten zu erzeugen. Wenn man sich eine solche einzelne Linie aus der Nähe anschaut, die aus zahllosen, immer wieder von Leerstellen unterbrochenen Einzelelementen bestehen, stellt sich unvermeidlich die Assoziation von Schriftzeichen ein. Immer wieder gibt es Wiederholungen von Elementen, die mehr oder weniger an Buchstaben oder Satzzeichen erinnern: llll, eeee, oooo, Kommata und Semikolons – und zweifellos fände man auch Ähnlichkeiten zu Zeichen nicht-europäischer Schriftsysteme. (Diese Nähe von Zeichnung und Schrift ist in vielen Arbeiten Alexandra Roozens thematisch. In ihnen wird anschaulich, dass der griechische Wortstamm unseres Wortes Graphik, "gráphein", sowohl "zeichnen" als auch "schreiben" bedeutet). Wenn man sich die Mühe macht, einer einzelnen "Linie" aus diesen Pseudo-Schriftzeichen zu folgen, nimmt man deutlich wahr, wie diese sich im Verlauf langsam verändern, von Mal zu Mal leichte Varianten aufweisen und so sukzessive ihre Gestalt verändern. Ursache dafür sind leichte Veränderungen im Ansatz der Bohrmaschine, die Vibrationen der Maschine selbst, vor allem aber die unvermeidlich fortschreitende Abnutzung des Graphitstifts, durch die sich dessen Ansatzfläche ständig verändert. Aus einem o wird so z. B. langsam ein u, aus einem l ein g und zuletzt ein unlesbares Graphem, usw. An diesen schrittweise erfolgenden Übergängen, die sich aus der Kombination aus der linearen Bewegung des Graphitstifts und seiner Rotationsbewegung ergeben, lässt sich der Titel "Tweening" verständlich machen. Der Begriff ist eine Abkürzung für "inbetweening" und ist ein gebräuchlicher Term für einen technischen Vorgang im Trickfilm bzw. in der Computeranimation. Man bezeichnet damit das Verfahren, zwischen einem Ausgangszustand A und einem Endzustand B Einzelbilder einzufügen, die A Schritt für Schritt an B anähneln, sodass sich im Film die Bewegung eines Objekts (Bewegungs-Tweening) oder eine Formveränderung (Form-Tweening) ergibt. Diesen animationstechnischen Begriff überträgt Roozen auf ihre ebenfalls technisch erweiterte Zeichenpraxis. Der Titel "Tweening" lässt sich jedoch darüber hinaus noch in einem erweiterten Sinne auf den Gesamtprozess der Zeichnungen übertragen. Um dies zu verdeutlichen, sind erst noch einige Vorüberlegungen anzustellen.

Photo: Detail – Study of pencil lines, drawn with a drill
V.
Einem leichten und verletzlichen Material wie Papier mit einem so robusten Werkzeug wie einer Bohrmaschine zu Leibe zu rücken, ist ein Akt, der ganz bewusst von der traditionellen Auffassung von Zeichnung als sensible, intentional bestimmter Handarbeit abrückt. Alexandra Roozen hat immer wieder das Verhältnis des Künstlersubjekts als Autor gegenüber dem technischen Zeichenprozess als solchem reflektiert und ausgetestet. Das ging soweit, dass sie bei einigen früheren Arbeiten die Gewaltsamkeit der eher grobschlächtige Drehmechanik des Bohrers so intensiv zum Einsatz brachte, dass es zu Verletzungen, zu Kratzern und schrundigen Aufrauungen des Papiers kam. Noch radikaler erscheint ihre Idee, den Zeichenprozess von der körperlichen Anwesenheit der Künstlerin zu emanzipieren und einer Zeichenmaschine anzuvertrauen. Diese Aspekte des Werks von Alexandra Roozen und die mit ihnen zusammenhängenden Fragen nach dem Status des Künstlersubjekts müssen hier nicht weiter vertieft werden, zumal sich Petran Kockelkoren in einem instruktiven Text von 2012 genau damit auseinandergesetzt hat. Es genügt hier ein Zitat: "Wenn die Autorin eine Künstlerin ist, welche Art von Künstlerin ist sie dann? Ist sie in ihrer Arbeit selbstexpressiv vorhanden oder hat sie ihre Schöpfung wie ein deus absconditus allein gelassen? Diese Rätsel sind die entscheidenden Fragen, welche die gegenwärtige Diskussion in der Kunst beherrschen. Die Künstlerin betreibt auf einer Meta-Ebene Forschungen zu den Bedingungen der Existenz ihres Werks."2 Der Forschungscharakter von Alexandra Roozens Arbeit wird auch in "Tweening" sehr deutlich. Wie methodisch sorgfältig sie sich ihren selbst gestellten Fragen annähert, kann ein Detail verdeutlichen. Bekanntlich können die üblichen digitalen TrueColor Grafiksysteme 256 unterschiedliche Graustufen darstellen, während das menschliche Auge – je nach Betrachtungsbedingungen – nur 40 bis 100 Graustufen zu differenzieren vermag. Um sich eine Vorstellung davon zu verschaffen, wie sich die Helligkeitsverteilung innerhalb der Bildzonen von "Tweenings" (und der früheren, strukturell sehr ähnlichen Serie "Between" von 2012/13) verhalten könnte, hat Alexandra Roozen am Computer eine Permutationsreihe von verschiedenen Graustufenzonen erstellt, eine sinnverwirrende, das Auge völlig überfordernde Abfolge von Hunderten von unterschiedlichen Verteilungsmustern, die vor allem eines deutlich machen: Alexandra Roozen ist eine Künstlerin, die sich nicht mit vagen Intuitionen zufrieden gibt, sondern den Dingen auf den Grund geht. Was der Musikwissenschaftler Carl Dahlhaus einst in einem ganz anderen Kontext gesagt hat, gilt ganz genau auch für ihre Arbeit: "technische Momente sind immer zugleich ästhetische. So wie umgekehrt ästhetische Einsichten technisch begründet werden müssen".3
VI.
Was ist ein Horizont? Zu Alexandra Roozens Grundhaltung gehört es, nicht von einer Antwort auf diese Frage auszugehen, sondern zeichnend nach einer Antwort zu suchen. Vom Wortsinn her ist der Horizont ein "Gesichtskreis", d. h. idealerweise eine den Betrachter über 360 Grad umgebende Linie, die sein Gesichtsfeld in der Horizontalen begrenz. Ein Horizont auf einer Zeichnung kann somit immer nur Fragment dieses Gesichtskreises sein. Empirisch stellt sich der Horizont (vor allem bei weiten Ebenen wie dem Meer) auch kaum als klare Linie, sondern eher als unscharf verschwimmende Zone dar. Den Ausgangspunkt der "Tweenings"-Zeichnungen bildet nicht der sichtbare Landschafts- oder Meereshorizont, sondern der technische Prozess, mit dem sich die Horizont-"Linie" als helles, unscharf begrenztes schmales Band innerhalb einer subtil abgestuften Dämmerungsfeld akzentuieren lässt. Dieses Feld baut sich beim Zeichnen schrittweise, Linie für Linie auf. Wenn der Titel "Tweening" einerseits eine den Linien immanente Eigenschaft benennt, nämlich die von Moment zu Moment springende Zustandsänderung der (pseudo-)graphematischen Einzelelemente, so kann mit ihm andererseits auch der Prozess des Linienziehens insgesamt beschrieben werden: als die schrittweise Annäherung einer Linienvielzahl hin zu einem diffusen Graustufenfeld. Nachdem Alexandra Roozen einen lockeren Fächer von Linien aufgespannt hat, zieht sie immer weitere Linien dazwischen, füllt die Zwischenräume zwischen von beiden Seiten her immer dichter an. "Ich denke, die Idee der Interpolation ist der Hauptgrund für den Titel."4 Die Interpolationen sind genau die immer wieder zwischen andere Linien einzufügenden weiteren Linien, die sich mit den von der Gegenseite gezogenen überkreuzen, optisch verdichten und in der Zusammenschau die Emergenz eines sehr fein abgestuften Spiels von Hell-Dunkel, eine reich differenzierte Dämmerungszone bewirken. Indem sie eine schmale horizontale Zone als Trennung stehen lässt (während des Zeichenprozesses wird sie mit einem schmalen Klebeband abgeklebt), schafft sie ein Referenz- oder Orientierungselement inmitten des Bildfeldes: "eine Referenzlinie für die Bewegungen von Hell zu Dunkel, von hart zu weich, von fern zu nah, von oben nach unten usw."5 Und, wie man hinzufügen muss: von einem Bild zum nächsten, sofern mehrere "Tweening"-Zeichnungen gemeinsam ausgestellt werden.
VII.
Zum Schluss muss noch eine Besonderheit dieser Arbeiten in den Blick gefasst werden, von der bisher noch gar nicht die Rede war. Es handelt sich um die eigenwillige Positionierung der Bildfelder auf dem Papier. Bei jeder der Zeichnungen misst dieses Feld 75 x 155 cm und ist auf das 120 x 160 cm großen Trägerpapier ganz nach unten gesetzt, wobei links, rechts und unten ein jeweils 2,5 cm breiter Rand bleibt. Zum oberen Blattrand aber klaffen 42,5 Zentimeter Abstand. Das heißt, der obere Rand ist so breit, dass er kaum noch zu Recht als "Rand" bezeichnet werden darf, sondern eine autonome weiße, leere Papierfläche bildet. Die eigenwillige Positionierung des Bildfeldes kann als eine ebenso subtile wie konzeptionell stimmige Entscheidung betrachtet werden. Eine "klassische" Lösung wäre die Positionierung des Bildfeldes genau in der Mitte oder ein wenig nach oben versetzt, sodass sich eine harmonische Gewichtung zwischen Positiv und Negativ, sprich: zwischen dem eigentlichen Bild selbst und dem neutralen Rand einstellte. Diese Auffassung unterminiert Roozen durch die exzentrische Positionierung des Bildfeldes nachhaltig. Das dunklere, optisch schwerere Feld sackt nach unten ab, die helle Papierfläche behauptet sich als eine Zone eigenen Rechts, das sich nicht einfach neutralisieren, d. h. aus der Betrachtung ausblenden lässt. Dadurch wird das Blattganze als materielles Objekt erfahrbar. Zeichnung meint bei Alexandra nicht die Illusion eines immateriellen Bildes, sondern das Ergebnis eines konkreten, materiellen, von den zum Einsatz kommenden Materialien (Papier und Graphit) und Prozeduren (Linienziehen mit Lineal und Bohrmaschine) bestimmten Prozess. Dass dieser Prozess zuletzt ein Ergebnis hervorbringt, das unserem Vorstellungsbild von Landschaft, von Meer und Himmel entspricht, zeigt nur, wie stark unsere Wahrnehmung von tief sitzenden Vorstellungsschemata strukturiert ist. Die Assoziation einer Seelandschaft ist unabweisbar, auch für die Künstlerin selbst – und doch ist dieses Schema weder Ausgangspunkt noch Ziel des künstlerischen Prozedere. Wie Alexandra Roozens "Tweening" dieses Schema zugleich untergräbt, als Schema bewusst macht und wieder in sein Recht setzt, gehört zu den visuell wie konzeptionell gleichermaßen bestechenden Aspekten ihres künstlerischen Ansatzes.
Annotation
Wolfgang Welsch, Ästhetik und Anästhetik, in: ders., Ästhetisches Denken, Stuttgart 1990, S. 9-40.
Petran Kockelkoren, DISTURB – De verstoring van het verstaan van betekenis. Zitiert nach: https://alexandraroozen.com/de-verstoring-van-het-betekenis, abgerufen am 22.07.2013 (Übersetzung: P.L.).
Carl Dahlhaus, Richard Wagners Musikdramen, Stuttgart 1996, S. 95.
Alexandra Roozen, E-Mail an P.L., 09.04.2013 (im Original englisch).
Alexandra Roozen, E-Mail an P.L., 23.07.2013 (im Original englisch).
---
Supported by Mondriaan Fund and Centre for Visual Arts Rotterdam.